Teaching
Theresa had her first taste of teaching when she was about 15 years old. Her long-time teacher Dianne Gregg, who was artistic director of the youth dance company to which Theresa belonged, asked her to teach some ballet and jazz classes to the younger members of the company. Theresa also gained valuable experience assisting Dianne with children's creative movement (for ages 3-5) and pre-ballet (for ages 6-8) for several years. Dianne then moved on, and Theresa herself taught both of these children's classes from 1990 to 1992.
After that, Theresa took a break from teaching (although she had similar experience as rehearsal director for SeedDance, Carol Fonda & Company, and JoAnna Mendl Shaw during that interim, and later for KDNY) until 1998, when she began teaching now and then as part of Carol Fonda's Dance/English program for international students. As the program grew and Carol opened her own studio, Dance Forum NY, (in 2000) and started offering open classes in addition to workshops, Theresa taught more and more regularly, up to as many as 5 classes per week. These classes were BodiBalance based, mostly were in the modern dance idiom, and ranged in level from beginner to professional (all for adults). These days, however, Theresa only occasionally teaches at Dance Forum NY as part of the intensive month-long workshops offered during the summers.
In 2001, Theresa received her first commission: to coach and choreograph an audition solo for a young woman auditioning for LaGuardia High School for the Performing Arts. (She passed the audition and was accepted!)
In 2002, Theresa was commissioned by Middle Collegiate Church to work in collaboration with Brittany Reese and Kari Hoaas to create a series of Advent dances for children in the congregation. Theresa continued to assist Brittany for several more years, working with a combination of children (and sometimes adults) from the congregation and professional dancers. In 2005, Theresa started receiving solo choreographic commissions there and continues to this day to create approximately 3 pieces per year for performance during their services. The December 2005 Middle Church newsletter (in PDF format) contains an article, "Advent Dancer," about Theresa's work at the church.
Theresa has also enjoyed a number of teaching experiences through her position with KDNY. She assisted their artistic director, Kathleen Dyer, with teaching classes at Dance Place in Washington, D.C., in May 2006. In 2002, Theresa set "East Whistwaddle Ladies" (choreography by Kathleen Dyer) on members of the Huntsville Community Ballet company in Huntsville, AL. In March 2006, Theresa taught classes and set "Juxto" (choreography by Kathleen Dyer) on students and teachers at a high school in Panama City, FL (together with fellow KDNY member Heather Kemp).
In fall 2006, Theresa was commissioned by the Unitarian Universalist Meeting of South Berkshire to choreograph two pieces for their tenth anniversary celebration (in Great Barrington, MA). One piece was a trio for Theresa and Duhon Dance members Uta Takemura and Lutin Tanner. The other piece incorporated 6 children from the congregation along with the 3 professional dancers.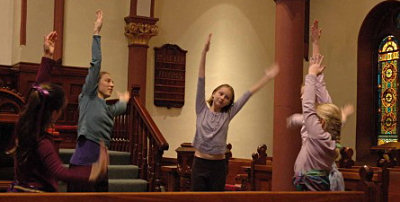 Photo by Takashi Yokoyama
Theresa in rehearsal with child members of the congregation, for guest appearance at Unitarian Universalist Meeting of South Berkshire tenth anniversary celebration
Theresa is currently working on a private commission for a ballet pas de deux. She will also be teaching classes at the Sugar Space in Salt Lake City, Utah, May 19-23. See the Sugar Space website for details.