Current work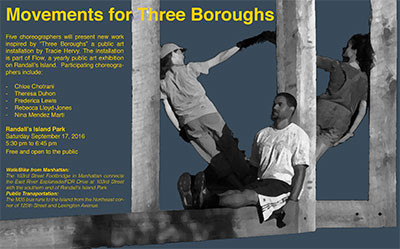 Duhon Dance is back! Catch Theresa Duhon and her dancer/collaborators Lutin Tanner and Priscilla Marrero in a piece (part set choreography, part structured improvisation) inspired by and performed on and around Tracie Hervy's public art installation "Three Boroughs," as part of FLOW on Randalls Island.
This outdoor performance will take place on Saturday, September 17, from 5:30-6:45 p.m. Duhon Dance will share the program with choreographers Chloe Chotrani, Frederica Lewis, Rebecca Lloyd-Jones, and Nina Mendez Marti. Look for the large wooden frames on the southeastern part of the island, between the Robert F. Kennedy Bridge and the Hell Gate Bridge. For a map and directions, visit http://www.flowartnyc.org/map-directions/map
Read more about how to donate to Duhon Dance,
and help cover the production costs of these and future projects.