Past Performances
Dance Jamaica!
Duhon Dance was chosen as one of three companies to perform in Dance Jamaica!, a series of Saturday dance concerts in Jamaica, Queens, in 2008. Each company was given one Saturday. Ours was October 11, 2008, and we gave two performances that day: one at 11:00am and the other at 1:00pm. These were outdoor, site-specific performances, on the lawn of the Jamaica Performing Arts Center (JPAC), at Jamaica Ave and 153rd St, free and open to the public. We enjoyed performing to live percussion, for an audience of friends and passers-by.
Here is a brief description of our piece, written at that time:
"Jamaica: from the Days of King to Today's Queens" tips its hat to U.S. Founding Father and early American Abolitionist Rufus King, whose house is across the street from what is now JPAC. Through spoken word, live music, and a range of dance styles, Duhon Dance both brings history to life and mirrors the energy and atmosphere of present-day Jamaica, Queens.
For further information on Dance Jamaica!, see the official press release.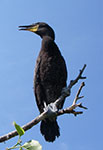 Fledge
Duhon Dance and Colin Grubel, a scientist studying cormorants, completed the 6-week iLAB mini residency, "Fledge," in summer of 2008. Read more about it and check out our photos on the Fledge page.
iLAND, the organization offering these iLAB residencies, supports collaborations between movement based artists and scientists, environmentalists, urban architects, and others.
Donde Voy
In 2008, Theresa also revisited an old work that she choreographed in 2002, "Donde Voy," a solo for Naoko Matsumoto. Naoko performed this work, and Theresa performed a new solo, at Isabella House in December of 2008.
Spring 2008
Theresa taught modern dance classes and set pieces on local dancers in Salt Lake City, Utah, at the Sugar Space May 19-24. The culmination of this residency was a joint performance with other Sugar Space faculty and students on May 24. See the Sugar Space website for more details.
In NYC, Theresa performed a brand-new duet with dancer Maya Seidel at Middle Collegiate Church on April 13, in both the 9:00am service and the 11:15am service. This was a commissioned work and was performed to live music.
2008
April: performance at Middle Collegiate Church
April: Dancenow RAW Festival
May: performance by local dancers at Sugar Space in Salt Lake City, Utah
June and July: Fledge iLAB mini residency open rehearsals at various parks in NYC
October: Dance Jamaica! series in Jamaica, Queens
December: holiday party performance at Isabella House
2007
October: full evening concert, of Sand and Sea
2006
July: chashama's OASIS Festival
August: New Choreographers on Pointe's "Previews" showcase
November: Unitarian Universalist Meeting of South Berkshire tenth anniversary celebration
November: Hatch series at Jennifer Muller/The Works
2004
February: full-evening concert A Sampling for a Small Space presented by TIXE (a chashama theater)
July: chashama's OASIS Festival
2003
April: "Moments of Silence" (produced by Lisa Allin) at Pop Sustainability
June: Ravenswood Senior Center show
July/August: grand opening celebration concert at TIXE (a chashama theater)
October: Red Shoes showcase at One Arm Red
November: "Gallery of Dances" (Dance Forum fundraising gala) at Dance Forum NY
2002
September: "This is Us" (produced by Naoko Matsumoto and Yutaka Kizawa) at Dance Forum NY
November: Hatch series at Jennifer Muller/The Works
December: Red Shoes showcase at One Arm Red
December: ACAT showing